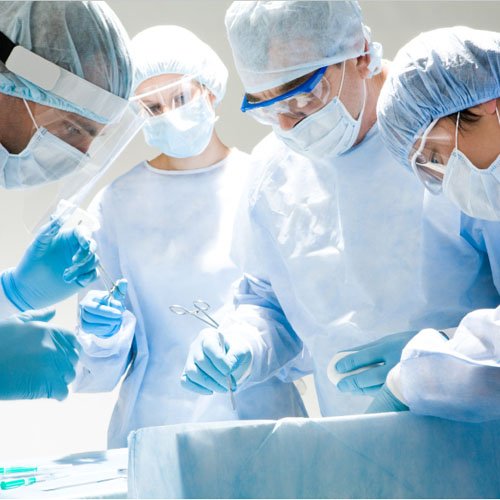 30 Live Surgeries Performed in 3 days at Cygnus Bensups for the 8TH ISKSAA Symposium
ISKAA (International Society for Knowledge for Surgeons on Arthroscopy and Arthroplasty) successfully completed its 8th international symposium on "Current concepts on Knee and Shoulder Arthroscopic surgery and Arthroplasty," at Bensups hospital (managed by Cygnus Group) in Dwarka, New Delhi, from 22nd February to 24th February. The symposium was attended by 500 delegates that included noted specialist doctors from Australia, UK, Europe, Middle East and South East Asia apart from the local Indian faculty. The 8th ISKSAA performed a kind of record when 30 difficult and rare surgeries were performed live, without a single hitch at Cygnus Bensups hospital and relayed directly to the Indian Habitat centre enabling the attending delegates to view the surgeries. Said, Dr. Pradeep Sharma, Director, Joint Replacement Surgery at Bensups Hospital (managed by Cygnus group), "People with urgent requirement for knee and shoulder surgery benefitted greatly from this 3 day live surgery session at the hospital."
New Delhi, Delhi, February 27, 2013 /India PRwire/ — ISKSAA (International Society for Knowledge for Surgeons on Arthroscopy and Arthroplasty) successfully completed its 8th international symposium on "Current concepts on Knee and Shoulder Arthroscopic surgery and Arthroplasty," at Bensups hospital (managed by Cygnus Group) in Dwarka, New Delhi, from 22nd February to 24th February.
The symposium was attended by 500 delegates that included noted specialist doctors from Australia, UK, Europe, Middle East and South East Asia apart from the local Indian faculty. The 8th ISKSAA performed a feat of kind when 30 difficult and rare surgeries were performed live, without a single hitch at Bensups hospital (managed by Cygnus group) and relayed directly to the Indian Habitat centre enabling the attending delegates to view the surgeries.
Said Dr. Vibhor Singhal, of the Bensups hospital (managed by Cygnus group) – OT Live surgery coordination team, "this is a kind of highest number of live orthopedic surgeries relayed in India in a short span of 3 days." Dr. Ashu Consul, from Bensups hospital (managed by Cygnus group), said, "although a number of knee, shoulder and all joint replacement surgeries were performed at the symposium, the most prominent was a hip arthroscopy surgery performed by a world renowned surgeon from Israel."
Said Dr. Pradeep Sharma, Director, Joint Replacement Surgery at Bensups Hospital (managed by Cygnus group), "People with urgent requirement for knee and shoulder surgery benefitted greatly from this 3 day live surgery session at the hospital." Dr. Pradeep Sharma has performed more than 5000 joint replacement till date. He specializes in revision of old replacements. Even the international faculty appreciated the seamless performance of the difficult orthopedic surgeries in such a short duration of time.
Dr. Anant Joshi from Mumbai, Dr.Hemant Kumar from Bangalore and Dr. Jaswant Rai from Panchkula were amongst the few famous doctors from the country who attended the conference.
Dr. Pushpinder Bajaj expressed satisfaction with the arrangement and facilities of Bensups Hospital managed by Cygnus group for the three day conference.
The symposium provided a platform for international dialogue on practice of Arthroscopy, Knee & Shoulder surgery, Joint Replacement surgery and Orthopedic Sports Medicine. The doctors also discussed new research, operative techniques and technical achievements and blockages. The emphasis of the symposium was on evidence based medicine, new surgical development and promising basic sciences.
Notes to Editor
About Bensups Hospital managed by Cygnus group
Bensups Hospital managed by Cygnus group is a 138 bedded multi specialty hospital, located in Dwarka Sub-city within walk able proximity to sector 12 metro station. The hospital has specialized departments dedicated to Eye care, Neurocentre& Spine surgeries, all kinds of Laparoscopic & Cancer surgeries, Infertility & IVF, Urology, Gynae& ENT etc.
Bensups Hospital managed by the Cygnus group aims to provide seamless healthcare delivery system including tertiary, secondary and primary care to its patients. The hospitals' motto of "Healing Touch" aims to bring quality healthcare within the reach of every individual at affordable cost.