Resurfacing one, two or three cpmpartments is partial knee replacement.
Unicompartmental knee arthroplasty(UKA)
Patellofemoral Replacement
Bicompartmental knee arthroplasty
Why Partial Knee Replacement?
"JITNI GAADI CHALTI HAI CHALA LO".
NOT ANYMORE AS WE HAVE OPTIONS NOW.
REPLACE ONLY THE PART WHICH IS DEFECTIVE
GETTING BACK TO SPORTS , HIGH IMPACT EXCERCISES AND RECREATIONAL ACTIVITY
PAINFREE ACTIVE LIESTYLE OF CHANGING URBAN INDIA, PEOPLE WHO DON'T WANT TO RELY ON OTHERS

NO FUTURE OPTION IS LOST, ALL BONE PRESERVED

GREATER RANGE OF MOTION
WHO ARE THE CANDIDATES FOR PARTIAL REPLACEMENTS?
YOUNG PATIENTS BETWEEN THE AGE OF 45-60 YEARS HAVING A DISEASE OF ONE OR TWO COMPARTMENTS ONLY
WANT TO PERFORM SPORTS ACTIVITY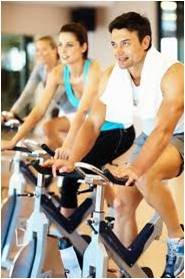 WHO WANT TO DO HIGH FLEXION ACTIVITIES
VERY FRAIL PATIENTS OR DEFORMED KNEES WHERE TKA IS NOT A POSSIBILITY
WHAT ARE THE ADVANTAGES?
OPTION TO RELIEVE PAIN AT AN EARLY STAGE, DISEASE DOES NOT SPREAD TO THE SURROUNDING SOFT TISSUE
BONE PRESERVED
FEELING OF A NATURAL KNEE, KINESTHETIC SENSE PRESERVED
SITTING CROSS LEGGED AND SQUATTING NOT A POSSIBILITY IN TKA.
VERY SMALL INCISION, DONE MIS.
EXCELLENT RECOVERY- DAY CARE PROCEDURES IN THE U.S.
NO SERIOUS COMPLICATIONS REPORTED LIKE DVT, PULM. EMB. EVEN IF INFECTION OCCURS REVISION VERY EASY.
IS IT THE PANACEA FOR OA KNEE?
Patellofemorel replacement
STUDIES SHOW THAT FIRST GENERATION PATELLOFEMORAL CONSTRAINT DESIGNS HAD A SHORT AVERAGE LIFE ~ 5YEARS.
NEWER LESS CONSTRAINT DESIGNS LIKE 'AVON' HAVE A GOOD RECORD OF TEN YEARS
LATEST ASYMMETRIC DESIGNS ARE EXPECTED TO DO BETTER.
Unicompartmental replacements
UNICOMPARTMENTAL DESIGNS ( HAVE BEEN SINCE MARMOR) SIMILARLY, AFTER AN INITIAL SLUMP TILL 1995 HAVE STARTED GIVING CONSISTANTLY GOOD RESULTS
UPTO 95% LIFE TILL 15 YEARS
FOR PARTIALS, SINCE IT IS A RECENT DEVELOPMENT DATA BEYOND 15 YRS IS NOT AVAILABLE BUT ONE CAN EXPECT A LONGER SURVIVAL
INCOMPETENT LIGAMENTS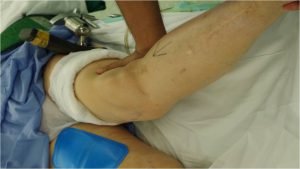 HOW DO WE DO IT? (UNI AND PATFEM)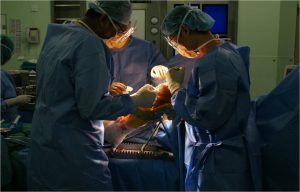 30 TO 45 MIN SURGERY
UNDER TOURNIQUET AND NO DRAIN REQUIRED SO MINIMAL BLOOD LOSS (
POSTOP EPIDURAL ANALGESIA
NEXT DAY MOVEMENT TO START
THIRD DAY DISCHARGE
TOTAL RECOVERY IN TWO TO THREE MONTHS TIME
PATELLOFEMORAL
PATELLA REPLACED WITH POLYTHYLENE INSERT
TROCHLEA WITH UNCONSTRAINED METAL
INLAY AND ONLAY TECHNIQUE: INLAY MY PREFERRED- LAZY
PATELLAR TRACKING TO BE CLOSELY EXAMINED BEFORE SURGERY, MOST REQUIRE LATERAL RELEASE.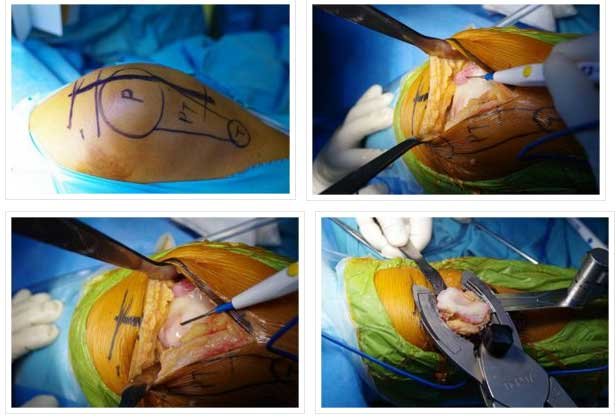 UNICOMPARTMENTAL
MEDIAL MOST COMMON
OPTION OF ALL POLY OR METAL BACKED
ACL SHOULD BE INTACT
FUNCTIONAL ACL SEEN BY AN ANTERO MEDIAL WEAR PATTERN, IF THE WEAR IS ON POSTERIOR ASPECT- POOR CANDIDATE
1-2MM THICKNESS BONE TO BE CUT FROM TIBIA AND 7MM FROM FEMUR
PATELLOFEMORAL ARTHRITIS IN- 40 YEAR OLD FEMALE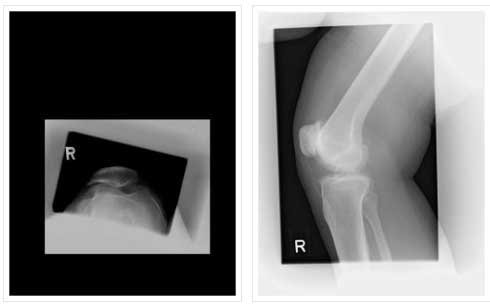 PATELLOFEMORAL REPLACEMENT-POSTOP

BILATERAL PATELLOFEMORAL REPLACEMENT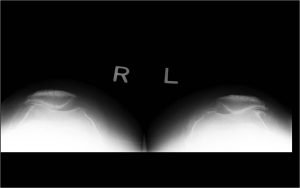 BILATERAL PATELLOFEMORAL REPLACEMENT

LATERAL VIEW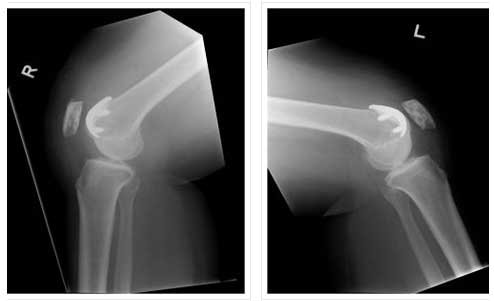 BICOMPARTMENTAL
INCISION A LITTLE LONGER AND IN MIDLINE
TAKES LONGER TIME
COMPLICATIONS MUCH LESSER THAN TKA.
BICOMPARTMENTAL INVOLVEMENT

BICOMPARTMENTAL REPLACEMENT

Bicomp in 55 yr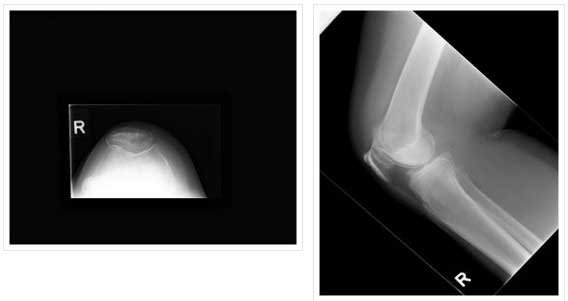 Bicomp 47yr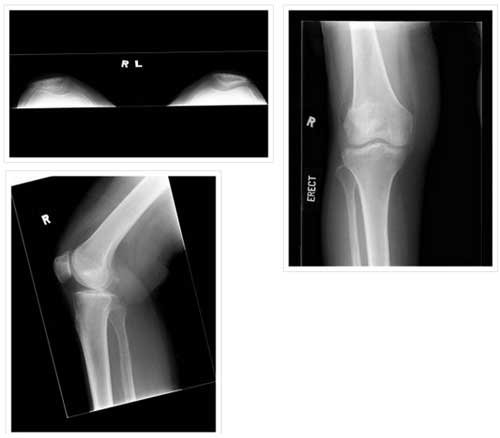 BICOMP-POST OP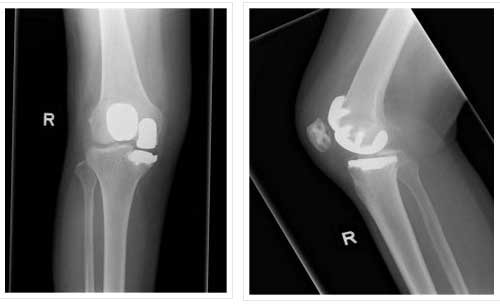 Medial compartment involvement

Right medial and left bicomp

Right UKA, Left bicomp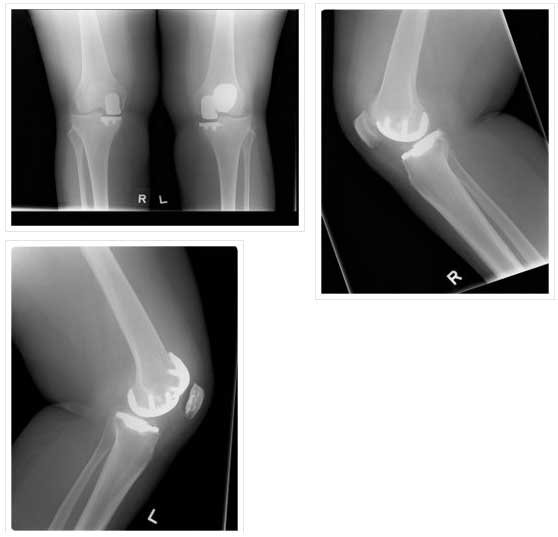 left medial and lateral few years apart